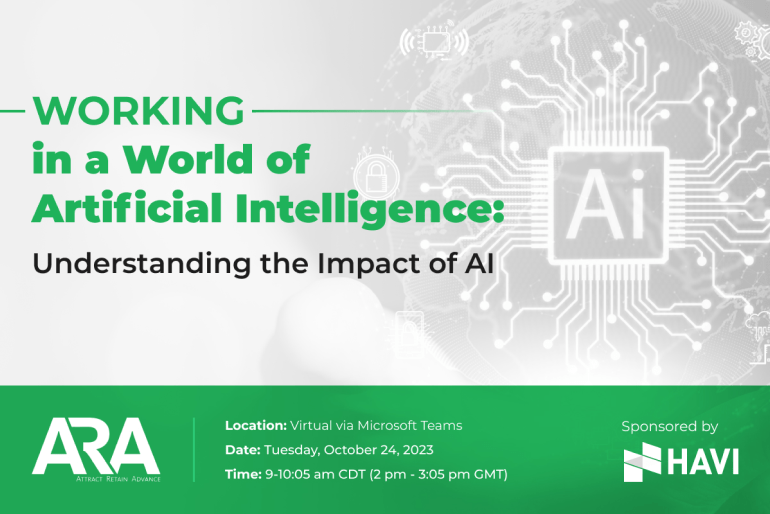 by ARA Chicago / October 24, 2023
Artificial intelligence (AI) impacts every industry and each part of an organization. When used effectively, it enables businesses to improve customer experiences, operate more efficiently, make better decisions, and increase productivity and profitability. But it requires an understanding and responsibility to leverage it in the right ways. 

This session will showcase AI's impact on business and the workplace, reveal the dangers of AI bias, and highlight our own roles in shaping the future of AI, regardless of our job position. Everyone has a role to play in AI. Do you know what yours is?
We welcome the following accomplished speakers:

Eunice G. Buhler
General Counsel G2
Eunice Buhler is the current General Counsel at G2, the world's largest and most trusted software marketplace, where she and her team support the strategic and tactical legal needs of  G2's global presence.  

Prior to G2, Eunice served as Associate General Counsel at the communications platform  Inteliquent, where she played a strategic role in its acquisition by Swedish-based Sinch. Before that, she served as an associate at Kirkland & Ellis, where she co-founded and led several  Women in Private Equity efforts while representing PE firms as well as private companies in domestic and cross-border transactions ranging from $10 million to $2.1 billion across a variety of industries.  

Eunice earned her J.D. from Northwestern University Pritzker School of Law and attended  Stanford University, where she obtained her B.A. in International Relations and M.A. in  Psychology – Conflict Resolution and Negotiation.  

When she's not leading G2's Legal department, Eunice volunteers for numerous charities focusing on healthcare, scholarships, and poverty alleviation—including The Economic Club of Chicago, The Hellenic Institute, the PanHellenic Scholarship Foundation, and  Cultures for Youth NFP, for which she serves as Founder & President.

Jane Hamner
Chief Growth Officer McCann Partners
Jane has been an IT staffing professional for more than 30 years, delivering top technology talent and IT solutions to businesses in a wide range of industries. She is especially adept at identifying and understanding today's vast IT challenges and developing solutions that help businesses thrive in a competitive environment.

Jane brings a creative approach to the position of Chief Growth Officer thanks to her background in solving unique client needs and her expertise in sales, leadership, training, development, and mentorship. In her role, she is responsible for growing the company's recruitment service lines and expanding its executive search offering. She also plans to increase McCann Partners' Chicago footprint and explore regional growth opportunities.

Along with Megan McCann, Jane is a proud founding member of ARA, a national organization that seeks to promote women in technology and leadership through mentorship, networking, and open discussion. She also co-founded the Chicago Executive Women's Networking Group, and is frequently invited to speak on tech diversity topics.

Megan McCann
CEO & Founder McCann Partners
Megan McCann is an established IT recruitment and technology services leader known for building and leading highly successful IT services firms, and for her work to advance diversity and cultivate talent across the technology industry.
 
Megan is the CEO of the leading IT recruitment firm McCann Partners, which she founded in 2011. She and her team deliver IT recruitment with intention and integrity to a growing portfolio of innovative organizations—from Chicago-based startups to companies with a global footprint. McCann Partners is dedicated to creating a more equitable and diverse workforce, and proud that more than 70% of their talent placements since 2020 have been diverse hires. Prior to McCann Partners, Megan co-founded and helped build Geneva Technical Services (GTS) and was a strategic force in growing SelecTech—both premier IT recruitment firms.
 
Megan's impact on the tech community far exceeds her day-to-day work as CEO of her own firm. Passionate about attracting, retaining, and advancing women in technology, Megan is a proud co-founder of ARA, a national organization that seeks to promote women in technology and leadership through mentorship, events, and programs. 

Jennifer Peabody
Manager, Technology Adoption HAVI
For over two decades, my life's purpose has been aiding others. I embarked on a transformative career as an Executive Assistant at HAVI fifteen years ago. There, my passion for technology ignited, particularly in web design. Transitioning into a Developer role, I discovered a new passion—teaching. Guiding others through technology's evolution has become second nature, and those "a-ha" moments with my audience are exhilarating.
 
Many technological advancements led to my current role, focusing on training and adoption. It merges my love for cutting-edge technology with sharing knowledge in engaging and creative ways. This journey fills me with immense satisfaction!

Bo Peng
Senior Director IDEO
As a Senior Director of Data Science, Bo leads IDEO's data science portfolio across North America. Focusing on clients in the media and technology industries, she helps organizations use data and machine learning to create considerate, intuitive, and enjoyable experiences for customers and employees alike. Her work spans ideation and opportunity finding, intelligent system design, immersive experiences, and digital product development.

Currently based in the United States, she previously worked at IDEO China, leading the growth of IDEO's data science capabilities in Asia, and pushing the boundaries of intelligent systems and human-centered data science across varying markets, mindsets, and values. She is a co-instructor for IDEOU's latest course, Innovating with Data, teaching students around the world how to use data to build an understanding of people and uncover opportunities for innovation.

Prior to IDEO, Bo was a Partner and Data Scientist at Datascope, a cutting-edge data science consultancy based in Chicago. Bo led a series of diverse engagements with deep technical expertise, including partnering with P&G to systematically surface subject matter experts and collaboration opportunities; with Steelcase to prototype the next wave of smart workplace and employee engagement tools; and with test-prep giant, Kaplan to launch an immersive bootcamp for people transitioning into data science careers. She also helped grow the business of Datascope, shaping a range of responsibilities from business development to recruitment.   

Bo has spoken at several conferences and events about applying human-centered design to data science projects. She was previously head organizer of the Data Science Chicago and the Chicago Women in Machine Learning & Data Science meetups.   Bo holds an MS in Statistics and a BS in Mathematics, both from The University of Chicago, and was named one of Crain's 2019 Tech 50.

Patty Riskind is CEO of Orbita. Orbita uses conversational AI, generative AI, and machine learning to automate both administrative and clinical workflows to make navigating healthcare easier. 

Patty was previously Head of Global Healthcare for Qualtrics, an experience management technology company. Prior to Qualtrics, she was CXO at Press Ganey, and before Press Ganey, she founded the first e-survey company in healthcare, PatientImpact, which Press Ganey later acquired. 

Patty is currently on the board of the Academy of Nutrition and Dietetics and has served on several venture-backed private boards as well as a public (non-physician) board member of the Accreditation Council for Graduate Medical Education (ACGME) on its compensation, audit, and finance committees.

Patty has a Bachelor of Arts degree with honors from Brown University and an MBA from the Kellogg School of Management at Northwestern University.
You will learn:
The business value of AI
How AI affects every area of an organization
Where the human element collaborates with AI, not competes with it
Awareness of AI bias and how to mitigate it
The future of AI – what's next
We hope you can join us for a virtual panel discussion followed by a Q+A session. 
See you there!