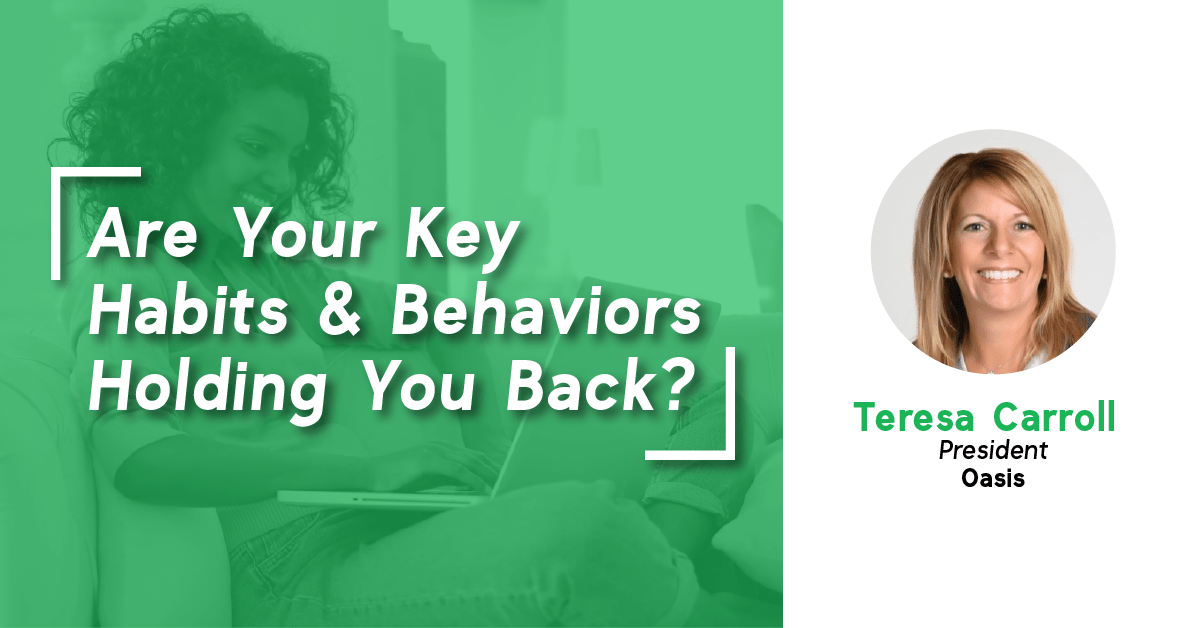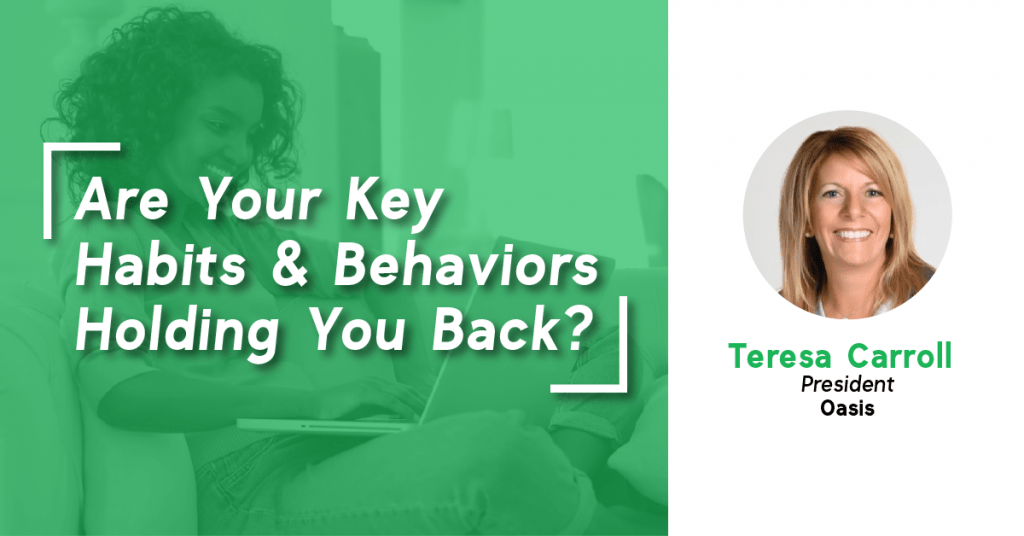 Nail biting. Skipping breakfast. Not getting enough sleep.
We all have our own habits – good and bad. But what if some of your work-related habits are holding you back from advancing in your career? As part of our "Inspiration to Thrive, Not Just Survive" virtual series, Teresa Carroll, president of Oasis and staffing industry thought leader, spoke about the 12 most common behaviors that are holding women back in the workplace and how to start breaking these habits.
These 12 behaviors, outlined in the book How Women Rise by Sally Helgeson and Marshall Goldsmith, center around struggles with confidence, self-promotion, perfectionism, and leveraging relationships. Research shows that though men can also struggle with these habits, they are most often practiced by women. Many of these habits come from a place of doubt or insecurity and may be due to the fact that many women struggle with imposter syndrome. Being conscious of and proactively avoiding these behaviors can help women advance in their careers.
In our session, Teresa walked through each of the 12 habits and asked attendees to score the intensity in which they identify with that behavior in order to determine which they struggle with the most. These habits range from being reluctant to claim your achievements to ruminating on the past. Interestingly, Teresa shares that the two most common behaviors practiced by women are "the perfection trap" (feeling that you need everything to be perfect or else you can't succeed) and "minimizing" (yourself and your work).
Teresa took a moment to highlight another habit women struggled with related to their networks. As their careers grow, women can get caught up trying to balance having more responsibilities at home and at work and can often begin to neglect their networks. She reminds us how important it is to maintain and leverage your network. You shouldn't start building your network at the time of need, but you should be building it over time for when you need it.
While attending an event at the University of Michigan, Teresa heard Professor Maxim Sytch talk about the concept of A and B networks. Your A network is your "go to" people. This includes people you know well and have built relationships with over time. These relationships are easier to maintain. Your B network takes a little more work. This network is made up of people outside your normal sphere that you have purposely decided to build relationships with. It's this group that can challenge you and help you see things from another perspective. You should actively be working on and with your B network.
Once you identify the habits you need to break, you should start by taking things slow and focus on one habit at a time. Teresa recommends finding accountability partners who can call you out and help create more positive habits.
To close out the session, Teresa took a moment to recognize the many female leaders who have done an amazing job leading their communities through our current COVID-19 crisis with collaboration, inspiration and empathy, all of which are considered more "feminine" strengths. While this session focused on the habits that women often struggle within the workplace, Teresa reiterates that there are countless behaviors and characteristics that women possess more often than men that can make them incredible leaders, especially in times like this.
So as you look at the habits you are practicing and which you need to work on, remember to always stay true to yourself first and foremost.
Event Resources
Learn more about the book How Women Rise